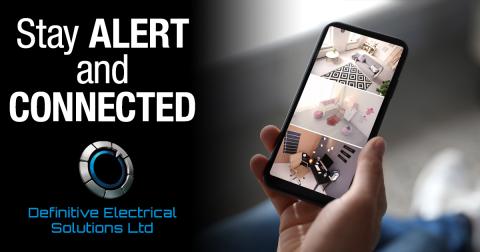 In previous weeks, we have been looking at home security cameras and weighing up the pros and cons of wired or wireless cameras. But, here at Definitive Electrical, we know that a good home security system will consist of more than just cameras. Having installed security systems across Nottinghamshire and Derbyshire, we have gained extensive experience in providing a good range of security systems, from the most basic systems to complex installations. So, what should customers looking to beef up their home security be thinking about? 
What components make up a security system? 
Depending on your needs, your home security system may contain some or all of the following electrical components: 
Control panel: this allows you to turn the alarm on and off, usually with a passcode. 

Siren or alarm: this sounds if the security system is activated by an intruder once it has been set on. 

Internal and external motion sensors: if these sense any movement, either inside or outside your property, once your alarm is turned on, it will sound the siren.  

Floodlights: also known as PIR or motion sensor lights, these will flood your outside areas with light when activated by movement, which will allow you to see what is happening outside even if dark whilst also hopefully deterring any potential intruder. 
Entry point sensors:  these are two-part sensors which attach to your external doors. One part of the sensor attaches to the edge of the door and the other to the frame. When the door is closed, they create an electrical circuit – if that circuit is broken by an intruder opening a door, the siren is triggered. You can also get similar sensors to go on your windows.  

Security cameras or video doorbells:  as discussed in our previous blog entries about home security cameras, these allow you to view and record any activity outside your property.  

Glass break sensors: these are actually sound sensors, which pick up the sound frequencies closely associated with the sound made by glass breaking. If the sensor picks up these sound frequencies, it will activate the siren. This means that some sensors may inadvertently activate the alarm if they pick up sounds which mimic glass breaking, such as keys falling onto a hard floor. 
Does my home security system need to include all of those components? 
There are a number of factors to consider when deciding how complex your home security system needs to be, including the level of protection you require, but the main one will be your budget. We know that very often our customers don't have an unlimited budget that will allow them to have an all-bells-and-whistles alarm system. That being said, there are a few basics that we would expect to see included in pretty much all home security systems – a control panel and siren being absolutely necessary as they form the heart of the system.  
Entry point sensors and internal motion sensors are also key components of home security systems. With these, you are able to detect unauthorised entry to your property both through the door as well as a result of any unexpected internal movement (just remember that your cat or dog can also trigger these sensors, so consider how best to position them to prevent accidental triggers). A motion sensor floodlight is also a big hitter, providing good deterrent value for money. 
If your budget is a bit tight, you might decide that glass break sensors are unnecessary, and either way, we would only suggest them for downstairs windows. Similarly, external movement sensors might not be the best use of a limited budget, especially if you live somewhere where they are likely to be triggered by innocuous means. And of course, as we discussed previously, your use of security cameras can be tailored to both your budget and your requirements.  
To discuss your home security requirements in more detail, get in touch with the team at Definitive Electrical. With our many years of experience installing security systems for homes, and businesses, across Nottinghamshire and Derbyshire, we will be able to customise a home security system which meets all your needs.