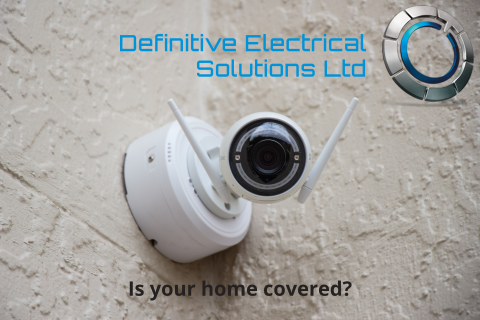 How to keep your home safe is a subject on many people's minds across Nottinghamshire and Derbyshire, especially as they head back to their workplaces after months of working from home. Over the next few weeks, Definitive Electrical is going to dive deep into the subject of keeping your homes, gardens and outbuildings safe from intruders with a series of blog posts looking at all aspects of home security. With the number of smart doorbells, security cameras and alarm systems on the market increasing seemingly weekly, we're going to kick off by taking a look at home CCTV systems and answering some of your questions.
Many CCTV images seem really blurred – how can I make sure I get good clear images?
To ensure your images are as clear as possible, you need to look at the resolution offered by the different camera options. A minimum resolution of 720p should ensure that you get a reasonably sharp picture but if your budget can stretch to 1080p, you will get far more detailed images. This is the most popular resolution and works well with most phones, tablets and PCs.
You can also get cameras with 4K Ultra HD resolution which provide extremely clear images – however, they require a very strong network connection in order to stream without lagging and will require lots of storage space if you choose to save your images to cloud storage.
The other thing to look at with regard to the images is the 'field of view' - the wider the field of view, the more the camera can see of your outdoor spaces.
Most crime seems to happen at night – how can I make sure I get the best night images?
Most modern home security cameras have been designed to provide night images as well as daylight images. Most cameras will use IR (Infrared) LEDs to provide clear night-time images although they will be in black and white. If you want colour night-time images, you will need to look for cameras which use white light rather than Infrared.
Whichever lighting option you go for, look for a camera which offers a night vision range of at least 30ft (just over 9 metres).
What is the best way to store my CCTV images?
When thinking about storage for your security camera images, there are a number of factors to think about including cost, how long you would like the footage to remain available and issues surrounding privacy.
Some wireless cameras offer free cloud storage for a specified number of days (often seven) while others offer a subscription service. However, if you are concerned about the privacy and cyber-security of cloud storage, you could choose a camera which allows you to save your CCTV footage to a microSD card instead.
The other factor affecting your storage options is the amount of storage you are going to require. Motion sensor cameras, which only start to record when they detect movement, will use far less storage space than a CVR (continuous video recording) camera, which records 24/7.
Speaking of motion sensor cameras, should I choose a movement detecting camera or one that records all the time?
Most home security cameras are motion sensor cameras, which detect nearby movement and start to record as a result of this. Smart models can even notify you on your phone or by email that they have been triggered by a nearby movement. For an extra layer of security, you can even get cameras which include sound detection although, one thing to bear in mind is that these can sometimes be overly sensitive and easily triggered by a neighbour's barking dog or a loud car tearing down the street.
Cameras that record all the time are, perhaps, more often seen in commercial settings and to record 24/7 will require greatly increased storage space. However, they do have the advantage of allowing you to go back and view what has been happening around your property at any point.
Finally, should I choose a wired or wireless security camera?
This is such a big topic that we are going to dedicate our next blog post to looking at this in more detail. But, in order to help you answer this question, you would be advised to have a good think about your requirements. Wireless cameras are easier to install, generally lower in cost and more flexible in terms of positioning but wired cameras will generally win on reliability and streaming quality. Look out for our next blog, where we will explore these aspects in more detail.
Whatever your home security needs, Definitive Electrical will work with you to design, supply and install a home security camera system which meets your requirements. We won't try to sell you something unsuitable for your needs but instead, will meet your requirements in both security and cost. Our expertise in installing home security options in homes across Nottinghamshire and Derbyshire will ensure that your home security system is fit for purpose and will keep your family and your property as safe as possible.