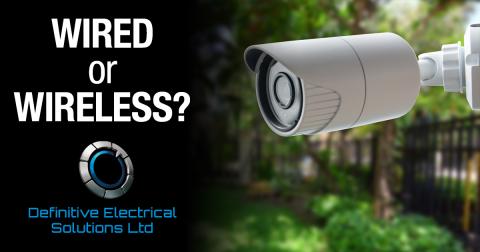 As a part of our in-depth exploration of home and business security options, we're going to take a closer look at security cameras – in particular, the pros and cons of wired versus wireless cameras. Here at Definitive Electrical, we are receiving increasing requests for security cameras from our customers from across Derbyshire and Nottinghamshire. With the growing popularity of Ring and other smart doorbells and home devices, wireless home security devices are a hot topic. So how do you know whether a wireless device is going to be suitable for your needs? Let's take a look at the pros and cons of wireless and wired security cameras.
Wireless Security Cameras
The obvious advantage of a wireless security camera is its portability – due to the fact that you don't need to wire it in, you can place it just about anywhere.
Pros
Ease of installation: because they don't need wiring in, wireless cameras are far easier to install.
Lower set up cost: due to the fact that you don't need to consider any additional wiring, with its associated expense, a wireless camera system will usually be the cheaper option
Flexibility: because you aren't restricted by the need to install the cameras close to an existing power supply, you can be more flexible in terms of where you place the cameras.
Portability: because they aren't wired, you can move them as and when you choose, including if you move house.
Cons
Less reliable: most wireless cameras will require battery changes or recharging, which can run the risk of them failing when you need them most. They can also be subject to network interference, which can mean that when you most need to be able to view the footage, you may find that it failed or isn't as much use as it could be without the interference.
Dependent on Wi-Fi strength: the further away from the router the camera is situated, the greater the chances are that weak Wi-Fi strength will impact the footage.
Large installations are difficult: wireless cameras aren't ideal if you are in the market for a large security installation, with numerous cameras covering large areas, especially somewhere with several entrances and outbuildings.
Less secure: using a wireless camera can leave you vulnerable to the risk of being hacked and someone else being able to intercept your security camera footage.
Providing you have weighed up the advantages and disadvantages of wireless cameras, they can be a great option for smaller residential properties although we wouldn't generally recommend them in commercial or industrial settings.
Wired security cameras
Reliability is the prime advantage of a wired security camera when compared to its wireless competition.
Pros
Reliable: due to the fact that they suffer little to no network interference or from bandwidth fluctuations, your wired security camera should be able to provide you with good quality images 24/7.
Consistent streaming quality: generally speaking, due to the lack of interfering factors, wireless cameras provide good quality footage around the clock meaning that, when you need that footage, you can be assured that it will be available and will be utilisable.
More secure: because they aren't using Wi-Fi to transfer data, wired cameras are more secure and you can increase that security by using an in-house storage facility rather than storing in the cloud
Support large scale installations: unlike wireless cameras, they can be configured to support large scale installations with several cameras, which can be ideal for larger residential properties, especially ones with outbuildings.
Cons
Larger installation project: due to the invasive nature of running wires throughout a property, the installation of wired cameras is a longer process and as a result, a more expensive job.
Susceptible to power issues: just as wireless cameras can be problematic due to their reliance on batteries, cameras which are wired into a mains power supply have their own issues. They can be impacted by power outages if they don't have a backup power supply and cut wires can also be an issue.
Less flexible: you will need to have reasonably easy access to power near your intended installation position which may make them unsuitable for the further flung reaches of your property.
Not portable: unlike wireless cameras, if you decide to move property, it will be a much trickier proposition if you want to take your security cameras with you.
Despite the more invasive and expensive installation process, wired cameras may be the best option for you if you have a larger area you wish to cover with your security system.
The team at Definitive Electrical will work with you to design, supply and install the security camera system which meets your requirements, whether wired or wireless. Our engineers install security systems across Nottinghamshire and Derbyshire and can always be relied upon to provide impartial advice to customers who are unsure of which security camera solution will meet their needs.