Make sure your fan is keeping you safe as well as cool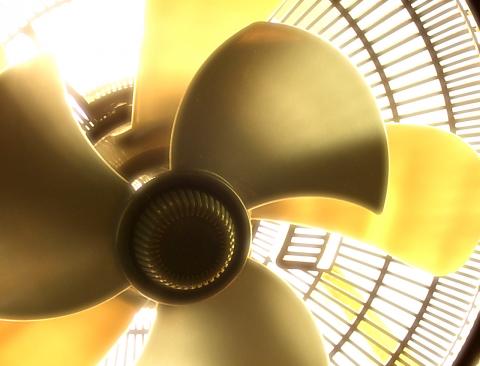 With current temperatures the hottest they have been in a decade, shops are facing huge demand for fans. Listening to the local radio last night, I heard many High Street stores had sold all out of fans and were turning customers away empty handed.
In the quest to keep cool, it can be a temptation to take risks with fans and perhaps buy from an outlet you wouldn't normally use or take a risk with an existing fan that could be electrically dangerous.
Take care with fan storage
Unfortunately with fans they can take up a lot of space and once surplus to requirements they are quickly relegated to the shed or attic. I have seen a few rusty fans already in use this year where damp or water has leaked onto them whilst in storage. Most people don't think twice about plugging in and turning on, so how do you know your fan is still safe to use?  Don't compromise your electrical safety for the sake of keeping cool.
Inspect the fan before using
Water damage or even damage to the casing can present serious risk of electrical shock or injury. Look out for signs of water damage which includes physical water being present, rust, or mildew. Storage of a fan in it's original box will help protect against rust and other accidental damage,
Inspect the cable to ensure no bare wires or damage to the cable itself is visible. If there is damage, do not attempt to repair it and definitely do not use it.
For more peace of mind, consider using an RCD plug, this is a definite 'must have' if your fan will be in use for long periods of time. An RCD plug will cut the power in a fraction of a second should a fault or other electrical problem develop.
Before buying a new fan – read our top buying tips!
The shortage of fans may well force people into looking at alternative outlets to purchase fans. Before parting with any money, make sure that the fan you buy will be suitable for your needs. Unscrupulous traders will be taking advantage of the heatwave to sell fans that could leave you at risk of electrical shock and injury.
As a leading electrical contractors in Nottingham, we have seen a huge increase in electrical damage caused by fake or incorrect electrical products being used in peoples homes. At best, this is costing the home owner money by having to have the electrics repaired. However fake electrical goods can cause serious house fire and even death. Never take the risk with a 'too good to be true' deal....
Check the voltage of the fan is 230v, 50Hz. This is the UK's standard voltage. Check that the fan is fitted with a 3 point plug.
If buying on line, make sure you have the sellers full contact details. PO boxes or even .co.uk websites could be based outside the UK. Do not buy from websites with no or unclear contact details.
Do not buy second hand electrical products. You have no way of knowing what condition the fan is in and chances are it will have no warranty.
Make sure you can pay safely – look out for 'safe' websites where the padlock symbol is displayed on the payment screen. The last thing you want is for your payment details to fall into the wrong hands.
Do your research first so you have an idea of the price you'll need to pay. Prices that seem 'too good to be true' probably are. Many people fall victim to fake electricals this way and risk serious electrical injury, house fire or even death.
If buying on line, check on line reviews to be sure you are dealing with a genuine seller.
All electrical products should carry a guarantee and a returns policy. If there is no guarantee and no way of returning a product then walk away.
Avoid a fan disaster
Avoid accidentally purchasing a fake fan, by shopping in the High Street or from reputable on line websites.
If you suspect a problem with your fan then unplug it immediately and do not use it. Contact a qualified electrician in Nottingham if electrical damage has occurred.
Keeping safe and being aware of the dangers (like reading this article!) will best protect you from falling victim to unscrupulous traders this Summer.