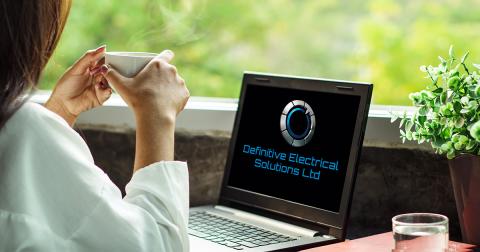 About that outbuilding you've thought about renovating, or that cabin kit you've had your eye on - Homeworking is here to stay, it seems.  The recent lockdowns we've had to adapt to have not been in vain though: They've taught us to reevaluate our processes; to appreciate our time more; and that we don't need to clock into a distant building every single day of the week.

So supposing we've decided on which of our outdoor, or even loft or garage spaces we can comfortably establish an office in, how can we then ensure that these spaces deliver ample electricity, connectivity, and above all, safety?

Definitive Electrical Solutions Ltd has compiled the following simple steps.  Follow them to ensure that your home-office workspace is fully functional, modern, efficient, and safe:
Electrics
The first 'port of call' is arranging the provision of power, be that mains electricity, a green energy solution, or a combination of the two
Definitive will install safe and fully-compliant wiring, consumer units and circuits, as safe as you'd expect in your home or office
Alarms Systems
Your home office contains valuable IT equipment, documentation, and in some cases, stock.  Therefore, a bespoke alarm system that can be controlled and monitored from your home should be considered
We also install fully wireless security systems, enabling full remote access
Consider a solution that offers a mobile app, allowing you to arm remotely, delivering alarm alerts, images, and messages directly to your smartphone
Home-Office CCTV Solutions
You might have an interest in Ring and Nest home CCTV camera systems.  Definitive also supplies professional systems including Analog High Definition (AHD) CCTV: camera systems that connect using coax cable to DVRs and other storage devices, as well as Internet Protocol (IP) CCTV Cameras: webcam-style digital cameras that relay footage over the Internet
All professional CCTV systems are available in bullet and dome housing, with lens, storage and aspect options
IP CCTV systems broadcast directly to a computer, and to a smartphone app providing you with full monitoring and activation capabilities
Hard-Wired and Wireless Internet Connectivity
Whether it's a weak and unstable wifi signal from your main building, or a signal transmitting throughout a large site, Definitive can boost your wifi signal by adding additional wifi access points
We can also install wired network points for areas where data and communications are needed the most
Hot Tubs
Hot tubs? Go on...
Over the recent lockdowns, as people utilise their time better, they also optimise their outbuildings, and that often includes hot tubs
Definitive can install any hot tub, leaving you to soak away the stresses of a hard day's work in your new outbuilding
As well as hot tubs, leave all of your complementary electrical requirements to us: from home entertainment to home cinema systems and gaming systems, to name just some!
If you can imagine your ideal out-building or home working set-up, Definitive Electrical Solutions Ltd can certainly help to make it a reality.  We have the know-how and experience to ensure your home office is ergonomic, efficient, safe and secure.  Click here to discuss your ideas with a member of the Definitive Electrical Solutions team now!