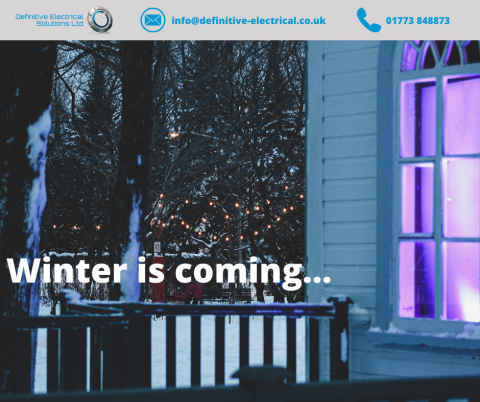 The sun may still be shining outside but it is now officially autumn and we all know what comes after that – winter! The days are already getting shorter and the light is starting to fade, so here at Definitive Electrical, we thought we would take a look at the top three electrical jobs you might want to think about getting booked in for before the cold weather really starts to hit.
Security Lights
The nights are already drawing in and soon the clocks will change and it will be dark much earlier. If you don't already have a good quality motion sensor security light, it might be time to think about getting one installed. As the name suggests, motion sensor lights are triggered when they detect movement nearby – whether it is you struggling to find your keys when bringing your shopping home, or it is a prowler hanging around in the dark outside. Modern LED floodlights are both long-lasting and economical to run.
Of course, not everyone wants a motion sensor light and that's ok. There are other ways to ensure that you are adequately illuminated through the darker months – whether that is with a dawn-to-dusk sensor or just a plain old on/ off switch. The team at Definitive Electrical can help you decide which option works best for you.
Outside Sockets
We don't want to say the C word too soon, but Christmas will be here before you know it and we know that many of you will want the outside of your homes to look as beautifully festive as the inside. Now, you can trail an extension cable through a window if you wish but we at Definitive Electrical don't recommend it at all – for electrical safety as well as home security reasons. Instead, we recommend one or two outside sockets so that you can hang your fairy lights safe in the knowledge that you won't be compromising the safety or security of your family. And, as with last year, there is a strong possibility that we will be doing more socialising outside into the colder months so now really is the time to think about getting a safe electrical supply to your outside spaces. Outside sockets are designed to be both waterproof and dust proof so you can use them safely throughout the year.
Heated Towel Rails
So, we've got your outside spaces both secure and ready for your fairy lights. What about inside? Our top inside electrical job for the colder months is a heated towel rail. Just imagine - no more shivering when you get out of the shower on a cold winter morning. Instead, you could be wrapping yourself in a fluffy towel, warmed and ready from a heated towel rail. At Definitive Electrical, we can supply and install a towel rail to fit both your budget and your bathroom space so if the thought of those cold mornings is making your teeth chatter already, get in touch with us and we will get you booked in.
Now you've seen our top electrical jobs to tackle in autumn, if you think we can help improve your winter months get in touch with the team at Definitive Electrical.