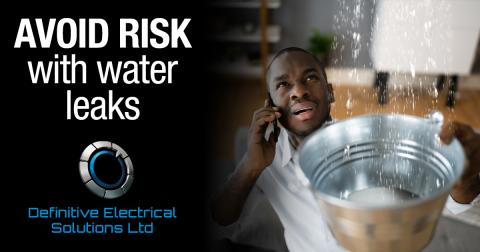 Some 43 per cent of UK homes have suffered a water leak. As well as wasting precious water, unaddressed water leaks could well be the reason behind your electricity tripping.  If you experience your electrics, or one circuit switch constantly tripping, seemingly for no reason, then read on.

When your electrics begin to trip, without a doubt, this is a signal that there is a problem that needs addressing by a qualified and registered electrician.  Over time, wiring and electrical fittings can become damaged. In turn, this damage can lead to additional damage of electrical items and therefore, the longer the problem is left unaddressed, the costlier repairs could be in the long run.

A common cause of electrical problems and subsequent circuitry tripping is water leaks.  Even the smallest water leak through roof tiling or poorly sealed windows and wiring could let enough damp into your house to trip your electrics. Over time, this can create long term water damage resulting in costly rewiring demands.  But the most common cause of water leaks and their interference with household electrics tends to be wiring running beneath toilets, showers and baths.  Toilets are the source of the largest proportion of household leaks.  Long after any water and damp patches have dried up, moisture could still remain around wiring, not only causing the regular tripping of electrics but in time, erosion and damage to the wiring.
External Electrics 
External electrics are of course at a far greater risk of exposure to dampness.  With more and more of us utilising outbuildings for homeworking and currently maximising our outside spaces to get the most out of summer, external electrics are extremely susceptible to problems. 

Outside lights, sockets and supplies to outbuildings are often exposed to moisture.  The electrics within outbuildings can also be at the mercy of rain leakage, as well as being housed in damp environments. Any one of the aforementioned can trip circuits and pose a risk to people and equipment.  
How To Manage Electrics After Water Leaks
Water damage to electrics is very common with water leaking into ceiling spaces.  Cabling and light fittings are highly likely to be affected.  No matter how minor a water leak seems, the chances are there are electrics close by.  So it's a sound practice to have a qualified electrician check your electrics after any water breach.  Bear in mind that plumbers are not necessarily electrically trained.  The state of electrics cannot necessarily be gauged by a visual examination and it is highly recommended to have them inspected and tested for safety by a qualified electrician.

Definitive Electrical can provide you with an officially recognised Electrical Installation Condition Report (EICR).  Because electrical problems can develop unnoticed following a water breach, an EICR will identify any potential problem, allowing it to be rectified early and easily at a much lower cost than repairing extensive damage to wiring.

If you've recently experienced a water leak, are experiencing excessive damp in your home, or have discovered water patches on ceilings or walls, speak to a Definitive Electrical Engineer now.  Find out how we can audit your electrics to ensure your home remains safe, with any potential issues highlighted and tackled before they become a real problem.