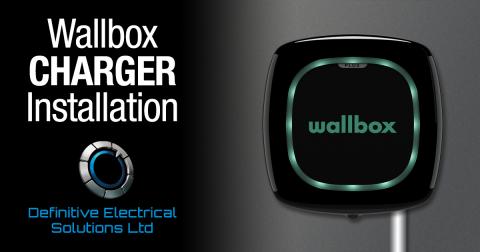 Electric cars are the future. There are already phased plans underway to reduce the number of diesel and petrol cars on the roads in the UK with a full ban on petrol and diesel vehicles within the next 20 years.
Numbers of electric cars on the roads are increasing rapidly – whilst costs started high a few years ago they are gradually becoming more affordable with the biggest cost being the outlay and generally not the maintenance.
A consideration when buying an electric vehicle is always – how and where do I charge it?! Public charging points are popping up everywhere, which is great for a top up but you don't want to have to find one every single time you need to charge your car.
As with most things that we charge, we prefer to do this in the comfort of our own homes leaving things on charge until we next need to use them, which naturally applies to electric vehicles.
Definitive electrical are a proud installation partner of wallbox smart charging solutions.
Wallbox smart charging solutions offer a range of charging points to ensure that charging your car at home is safe, fast and reduces your energy costs, allowing you to focus on the important things at home and not the concern of charging your vehicle.
Wallbox supports a growing number of vehicle brands and have a number of chargers available to support your needs.
Wallbox chargers allow you to access your charging data via the MyWallbox app on your phone or smartwatch and use your charging insights to charge more efficiently. The app allows you to select when and how long you charge your vehicle for meaning you can benefit from low electricity prices at off-peak hours. Scheduling your charging can literally help you to save money while you sleep.
Having a charge point installed provides an effortless charging solution and with Wallbox providing a variety of smart charging systems combining cutting edge technology, outstanding design and apps for car charger communications there really is a suitable charging solution for everyone.
Using a certified, trained and qualified partner of Wallbox chargers ensure maximum performance from your charger and also ensures the charger is installed correctly and safely. The warranty of the charger is automatically deactivated if the charger is installed by an unqualified or un recognised person.
If you are considering an electric car in the future ad are interested in installing a Wallbox charger please get it touch to discuss the options available to you.