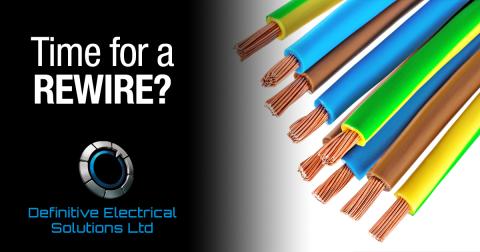 With any building over 25 years of age, it's highly recommended to ensure that your wiring is safe, functional and efficient.  That's because, over time, wiring can erode, become compromised by moisture and pose risks to those who use your property. So it's a great idea to have your wiring periodically checked over by a qualified electrician.

In addition, if you're planning any form of home improvements, such as decorating, pay attention to the age and state of your wiring before you commission or undertake any job too. If it transpires at a later date that your wiring needs replacing after your home improvements, rewiring work tends to require considerable temporary distress to walls.  So plan your decorating, plastering, painting and wallpapering around any wiring requirements, not the other way around.

The Definitive Electrical team is able to visit any household throughout the East Midlands. We're an NICEIC-approved domestic installer, we're TrustMark registered and exceed Part P electrical standards.  Therefore, you're dealing with a highly qualified team and one that's passionate about customer care.  Our engineers pledge to inform you right from the start of any job exactly what's going to be entailed.  They'll keep you informed of progress throughout your project and therefore, you won't get any surprises at the end of a job; only satisfaction with your safe, efficient electrics.  In addition to your household electrics, Definitive Electrical engineers are also experienced in rewiring and augmenting all kinds of outbuildings, from workshops to guest rooms, right through to home working spaces.

As well as letting you know the true state of your wiring in no time at all, our engineers are skilled to carry out all kinds of domestic and commercial electrical work including adding additional plugs, sockets and switches, the latest audio-visual equipment, smart home solutions, CCTV and alarms and the latest electric car charging solutions.

To speak to a member of the Definitive Electrical team, click here now!