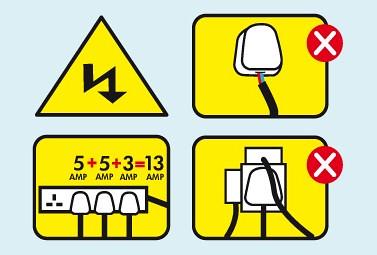 New Mandatory Electrical Safety Checks in the Private Rental Sector in Nottingham and Derby….all you need to know
The recent commitment by the Government to bring mandatory electrical safety checks into force in the private rented sector has been welcomed by industry experts. The government says The Electrical Safety Standards in the Private Rented Sector (England) Regulations 2020 have been laid before Parliament. These are likely to be agreed by the Commons and the Lords in the coming weeks.
It looks almost certain that agents and landlords must ensure electrical installation inspections and testing are carried out for all new tenancies in England from July 1 this year, or from April 1 2021 for existing tenancies.
More than 18,000 house fires in England each year are caused by electricity, with independent research suggesting PRS properties are most at risk.
And research undertaken for Electrical Safety First by Hampshire Fire and Rescue Service indicates that electrical fires in PRS homes are expected to increase by 17% by 2025.
It is statistics like these that mean this legislation is being welcomed as offering protection for millions of tenants, and also offering clarity in helping private landlords protect their assets through regular upkeep of the electrics in their properties.
The draft regulations propose that, from 1 July 2020, all new private tenancies in England will need to ensure that electrical installations are inspected and tested by a qualified person before the tenancy begins. The landlord will then need to ensure that the installation is inspected and tested at least every five years – and more often if the most recent safety report requires it. 
For existing tenancies, an electrical safety test will need to be carried out by 1 April 2021, with regular tests following this as outlined above. 
A 'qualified person' for the purposes of these regulations is a person competent to undertake the inspection and testing required and any further investigative or remedial work in accordance with the electrical safety standards. 
Local authorities can impose a financial penalty of up to £30,000 for a breach of the regulations. Where there are multiple breaches, the local authority can impose multiple penalties. 
The regulations also state that a landlord is required to obtain a report of the results of the inspection and test, supply it to each tenant within 28 days and retain a copy until the next inspection is due. 
Upon request, the report must be provided to the local housing authority within seven days, and a private landlord must supply a copy of the last report to any new tenant before occupation, or any prospective tenant within 28 days of a request from that prospective tenant.
Are you a Landlord that wants to find out more or ensure you and your properties are covered?  Put your mind at rest… Call me today to find out more and arrange an inspection.