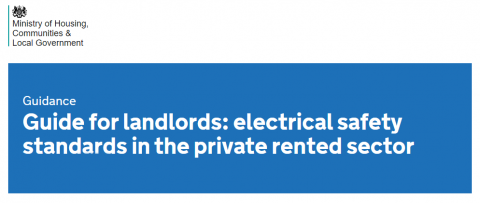 As a Landlord, you will be aware that it is your responsibility to ensure that your rental properties are electrically safe to protect the well being of your tenants.  But did you know that the regulations recently changed?  Read on to find out more…
From 1st June 2020, private landlords in England will be required to have the electrical installations in their rental properties inspected and tested by a qualified electrician to ensure that they are safe. 
These inspections will need to happen at least every five years, and Landlords will have to provide a copy of the electrical safety report to their tenants, and to their local authority if requested.
What does this mean for Landlords right now?
All electrical installations must be inspected and tested before the start of a new tenancy from 1st July 2020
Checks on any existing tenancies must be carried out by 1st April 2021
Landlords will also be responsible for ensuring that the installations are checked by a suitably competent and qualified person, such as an electrician that is NICEIC registered. 
What exactly will be inspected?
The 'fixed' electrical parts of the property that is supplied through the electricity meter, like the wiring, the plug sockets, the light fittings and the consumer unit (fuse box) will be inspected. This will include permanently connected equipment such as showers and extractors.
The inspection will find out if:
any electrical installations are overloaded or defective
there are any potential electric shock risks and fire hazards
there is a lack of earthing or bonding – these are 2 ways of preventing electrical shocks that are built into electrical installations
What happens after the inspection?
Landlords must obtain a report (usually an Electrical Installation Condition Report or EICR) from the person conducting the inspection and test which explains its outcomes and any investigative or remedial work required.
Landlords must then supply a copy of this report to the tenant within 28 days of the inspection and test, and to a new tenant before they occupy the premises.
If a local authority requests it, landlords must supply them with a copy of this report within 7 days of receiving the request.
If the report requires remedial work or further investigation, landlords must provide written confirmation that the work has been carried out to their tenant and to the local authority within 28 days of completing the work.
Landlords must retain a copy of the report to give to the inspector and tester who will undertake the next inspection and test.
What happens next?
By law, a periodic inspection of the electrical installations in rental properties in England must be carried out every five years.
However, the person compiling the Electrical Installation Condition Report may recommend a shorter interval before the next inspection based upon the findings of the inspection and testing that has been carried out.  When a change of tenancy occurs, the landlord should always make sure any property is safe to re-let.  At the very least, a visual inspection should be carried out.
Local authorities may impose a financial penalty of up to £30,000 on landlords who are in breach of their duties.
Call me today to discuss how I can help keep your rental properties and your tenants safe and secure.