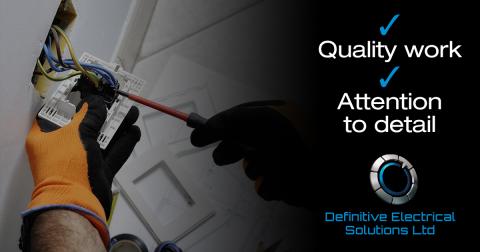 Definitive Electrical is committed to providing the highest standards of electrical services throughout the Derby, Nottingham, Chesterfield and wider East Midlands area.  Because quality and safety are paramount throughout every aspect of every job we deliver, we're committed to ensuring that our pricing reflects this, and is fair, transparent and competitive.

Most trades and services companies tend to charge a minimum fee per job.  That's because even standard electrical services require ancillary planning and actions.  From taking an enquiry and communicating efficiently beforehand, to organising the tools and parts, to travel to and from destinations, that's why Definitive Electrical charges a reasonable minimum fee of just £90 plus VAT.  Our daily rate is also clearly and fairly set: it's £440 plus VAT, with any parts charged additionally.

Definitive endeavours to carry out all work to the highest of standards, and this involves keeping our team's skills up-to-date.  Ongoing training involves studying the latest legislation and best practices, and ensuring that we're fluent in all new electrical systems, from smart home systems to electrical vehicle charging.  Therefore, we are confident that we provide a high level of service throughout, and so we charge accordingly, understanding the value behind what we do.  We charge appropriately and fairly, giving you a value-for-money, high-quality service.  As well as striving to communicate our pricing and services stages to all customers throughout each and every job, we follow structured processes and systems, ensuring the service we deliver is consistent and reliable.  

If you'd like to know more about our services, standards and pricing structure, get in touch with the Definitive Electrical team to discuss your electrical requirements.