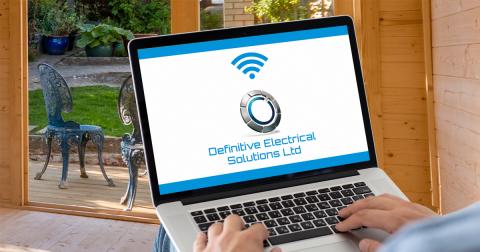 Two lockdowns have confirmed that, for many of us, working from home is more efficient, more convenient, and often preferred. Providing, of course, that our internet connections are speedy and trouble-free.

Throughout COVID-19, masses of home workers have settled into home working. Optimising residential spaces has involved attics, extensions, and out-houses being repurposed, and garden and summer houses updated to accommodate us during our working hours. But the problem that most of these spaces share is that they tend to be the furthest away from our wifi routers. Ironically, where the strongest and most reliable wifi signal is now needed.

So what are the main problems with wifi and home working?  
As wifi speeds go up, that's great for all of us. But as we work further away from our router, wifi signals don't travel so well. There are devices we have attached to our wifi that can cause problems too. This load now includes work laptops and printers and our wifi networks are faced with potential conflicts, as well as the distance from our router.

The first thing many home-workers and home businesses might try to do is boost their wifi signals. They may well try off-the-shelf products: better routers, or plugin mains network adapters. The problem with these is that, in many cases, these simply don't boost signals enough. Also, they are not as reliable as they need to be, often causing the connectivity to stop altogether, or stop-start irregularly.

The solution to weak, unreliable wifi problems
An option we often recommend is to install a wired network to the out-house, garden house, or attic workspace. Providing new access points using equipment, such as Ubiquiti wifi access points, ensures that internet access is robust, fast, and reliable. Therefore, keeping you online when you need it most.

Definitive Electrical Solutions engineers can help by installing a wired network to every major point in your property, where data and communications are required most. These points may well be home to TVs, games consoles, audio systems, and of course, working areas. Utilising a device such as the Tenda W6-s provides both hard-wired connectivity for the main device, as well as providing a reliable wifi access point throughout that area.

So if wifi connectivity is an issue for you, potentially interfering with your productivity and valuable home-working hours, click here to learn more and to find out which solution is best for you.