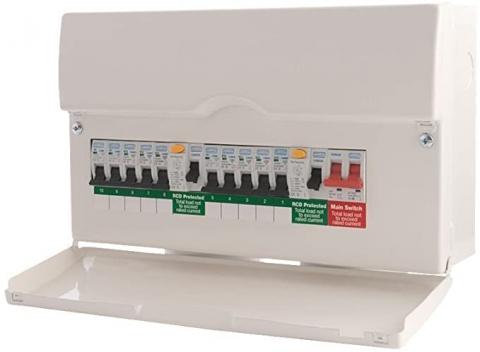 Fuse Boxes – also known as Consumer Units – are used to control and distribute electricity around our homes.  It is important for us all to know where the fuse box is located in our properties, in case we ever need to turn the electricity off in an emergency.
A fuse box contains three things:
a.    Mains Switch
This allows you to turn off the electricity supply, and so should be easily accessible.  Some homes will have more than one mains switch if there is more than one fuse box (e.g. if you have electric storage heaters)
b.    Circuit Breakers or Fuses
Most homes built after 1960 will have circuit breakers. These are automatic protection devices that switch off a circuit if they detect a fault.  Despite being a similar size to fuses, they offer more precise protection.  If they "trip", you can reset the switch after finding and correcting the fault.
Fuses have a piece of special fuse running between two screws.  If a fault occurs, or in the event of an overload, the fuse wire will become hot and melt.  The melted fuse then breaks the circuit, disconnecting it and keeping you safe.
c.    RCDs 
RCDs (residual current devices) are switches that trip a circuit under certain conditions and disconnect the electricity supply.  Read more about RCDs here (link)

There are a few tell-tale signs that indicate you might benefit from upgrading to a new consumer unit that would offer proper protection.  These include a wooden back on your fuse box, a mixture of fuses and circuit breakers, no RCD protection.  Also, if you are planning an extension or an improvement project or your fuse box is overloaded.
A professionally installed consumer unit by a certified electrician will improve your electrical safety as well as put your mind at rest by checking the integrity of the existing circuits in your property.
Call us now to find out how we can help on 0115 647 0093