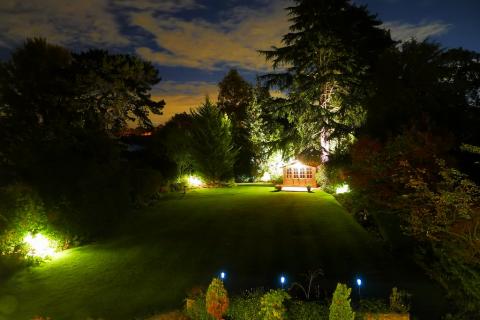 Over the last few years, the amount of people installing outdoor or garden lighting in Nottingham and Derby has dramatically increased.
One of the main reasons is people wanting to improve the look and feel of their outdoor space – lighting can have a huge impact on how your garden looks.
It can ensure your outdoor living space can be used long after dark and essentially give you extra space to enjoy or entertain in.
It can also be used to highlight certain features in your garden and make the effort you put in to the look of your garden all the more worthwhile.
The popularity of low voltage LED lights (SELV) has increased in recent times.  They are more cost effective than the previously popular halogen alternative and can withstand temperature and weather changes which is key in our climate!
Some people still prefer solar lighting as a green alternative which can also look effective.
Another reason to install outdoor lighting is for security – it acts as a deterrent and can reduce the risk of burglary or crime, as well as keeping you safe by lighting your path.
Security lights have a motion sensor where movement can activate the light, or the light could be set on a timer.
Outdoor LED lighting is becoming the preferred choice for security lighting as it is very bright, and has a much longer life span than halogen alternatives.  It is also much more cost effective.
Even though it's outdoors, safety is still paramount and it is important not to make electrical installations unless you are fully qualified and insured. 
It is worth noting that Part P of the building regulations now require anyone intending to have any electrical work installed outside to notify the building control authorities, and are obligated to use a Part P registered electrician to carry out the work. In fact, heavy fines can be incurred if electrical works do not meet the standards that have been set.
Whether you want to make an impact on the look of your garden by installing decking lights, pond lights, fence lights, path lights etc or you want to improve the security of your outdoor space, please give me a call today.