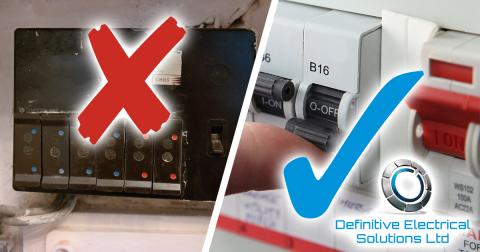 Are you worried about the fuse box in your house being too old?  It is true that many households today still have old fuse boxes in their homes which are not in line with the current regulations.  This could put your family or any tenants in unnecessary danger.
Ideally, everyone would replace their Fuse Box as soon as a newer version becomes available, but of course this simply isn't practical.
It's fairly easy to tell if you have an old style fuse box.  These have a series of fuses contained inside a fuse carrier which you can manually remove and replace should one of them go off during a power surge.  These old style boxes will have been perfectly safe when they were initially installed.  However, all things deteriorate with age, and you could find that things start to go wrong – perhaps the insulation starts breaking down on the wiring, or the contact screws become worn and loose.
If you have an old style box, a wooden back on your fuse box, a mixture of fuses and circuit breakers, or no RCD protection, then you would more than likely benefit from upgrading to a new consumer unit that would offer you more protection.  It is also worth considering if you are planning an extension or an improvement project or your fuse box is overloaded.
The most important thing is to use a suitably qualified electrician to do the work.  They are the only people able to certify that an electrical installation is safe to use, and that it conforms to the latest standards.
But how much will it cost me?
The honest answer is that it depends on many factors, such as which type of consumer unit you need and the number of circuits required.
On top of this, you will also need to pay for installation, checks and certification.
The good news is that here at Definitive, we offer simple, clear and transparent pricing.  We completely understand that our customers want to know what they are going to be paying before they commit to anything.  We will always be straight forward with you and give you the best price we can whether that is a minimum rate or doing the job on a price rate.
The best thing to do is to give us a call and we can discuss how we can help and get a better idea of the job required.  Please don't hesitate to give us a call – we are only too happy to help.