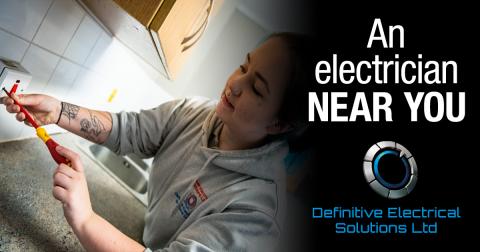 Knowing what's going on with your home electrics can be a tricky yet essential task for homeowners. It's absolutely vital that you have a qualified, registered local electrician that you know you can completely trust. You will likely find your first port of call is a quick online search of "electrician near me" and if you are searching for electrician in or around Arnold you may well have found our website. 
So, a little about me...
I'm Carl, and I'm proud to be one of Nottingham and Derby's most trusted and respected electricians. Keep my number to hand you never know when you might need me.
I know Arnold and the surrounding areas well having worked in the area for over 18 years.
As the owner of Definitive Electrical, I've spoken to many customers who have found it very difficult to pick up the phone and speak to an electrician not really knowing what the problem is but needing help. 
Firstly, please let me assure you I'm here to help and I've seen it all before. Anything from DIY jobs gone wrong to full house rewires on dated systems I'm able to offer a full range of services for your home and garden. A high rise flat or a big country mansion I am on hand to help you to succeed in what you set out to achieve on your latest electrical project.
If searching for an "electrician near me" you may be a homeowner or landlord keen to ensure your property is safe from an electrical point of view.
Buying or selling a house? 
In my experience its best to have an electrical installation check carried out on the property. This will tell you everything you need to know about the condition of the electrical system in the property. As a buyer this will ensure you know exactly what you are buying and any work that may need to be considered. As a seller this could help you to achieve your asking price being completely transparent with potential buyers.  
As a landlord you are legally required to hold a valid EICR which must be renewed every 5 years. A landlord should always keep a number for a trusted electrician to hand for any faults that occur, maintenance or regular testing.
 At Definitive Electrical services no job is too big or too small. As a trusted electrician I offer a full and comprehensive range electrical services for your home, so please do not hesitate to call me to discuss your requirements.
Finally, you're probably wondering of all the search results of "electrician near me" why us?
This is completely understandable. I'm clearly not the only electrician in your area and there are plenty who offer similar services. What sets Definitive Electrical Solutions apart if our four promises that I guarantee to each and every customer:
I am qualified to carry out electrical work in your home and will happily show you, my qualifications.
I am Part P registered with the NICEIC and work to the latest electrical regulations.
All work is insured and guaranteed.
Your satisfaction is guaranteed
So, if you find yourself in the need of electrical assistance with anything from a reoccurring fault or something you suspect just isn't right please don't hesitate to contact Definitive electrical Solutions and we will be happy to assist.