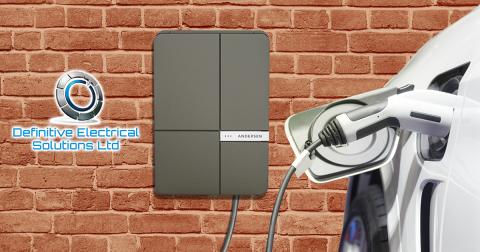 Electrical Car charge points are becoming more and more common, and demand for electric car charger installations in Nottingham has never been higher!
Electric vehicles are set to take over our roads and it's predicted that 50% of vehicles produced will be either electric or plug-in hybrid by 2030. The government also announced that in order to cut emissions further all new homes built in the UK would need to be fitted with electric vehicle charging points.
Whilst an electric vehicle can be charged "straight out of the box" using an adaptor that comes as part of the package and is plugged straight into the mains, it's not the most efficient way of charging and using this method takes a long time. A large capacity battery could take in excess of 30 hours to fully charge from empty not to mention the safety aspect with some sockets not being rated for long periods of continuous heavy usage.
Installing an electrical car charger is hugely beneficial to electric vehicle owners enabling them to charge their vehicles from the comfort of their own home efficiently and safely.
Installing an electric car charger has never been easier and there's a huge range of chargers and styles to suit your individual needs.
A popular choice for many is the Smart Charger option which offers many benefits such as timed charging allowing the user to select set hours for charging time in some cases avoiding higher electric costs. A smart charger also provides controls and useful data about your charging needs and usage to help you better understand patterns of how the electricity is used - literally putting the power back into your hands!
With an electric vehicle and a home charge point the days of leaving early for your journey to refuel at the petrol station are long gone.
Contacting a local electric car charger installer in Nottingham is the key to finding the right solution for your charging needs and keeping the running costs of your vehicle down. Your electric car charger installer will also be able to advise you about government grants available to fund a percentage of the cost of installation.
Definitive Electrical are your local, trustworthy electric car charger installers in Nottingham. To discuss your needs, get in touch today to arrange a free consultation and quote.