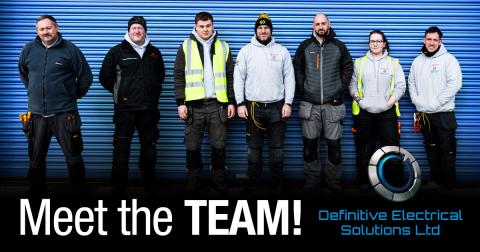 If you've Googled "Derbyshire or Nottinghamshire Domestic Electricians" lately, you've likely come across the name Definitive Electrical Solutions. But what is it that sets this name apart from other Midlands Electricians?
An already established domestic electrical name, Definitive bucked downward trends throughout the COVID era, cementing itself as a name trusted by households throughout the region. As families reconsidered the usage of loft, garage, and outside spaces, Definitive was on hand to provide COVID-safe service and electrical services. It was the company's customer-first approach and it was its cutting-edge ability and know-how that facilitated the ongoing growth cycle we're seeing today. However, at the helm of the company and its capabilities is its fantastic team of professionals: a team that is growing with the company's market share. So on that note, let's give a warm welcome to Definitive Electrical Solutions' newest team members:
Ricky Burgess - Electrician: Of Mansfield heritage, Ricky brings a wealth of experience to the Definitive table, from install work to fault finding. However, when he's not providing tip-top service, he's often found at the local gym or watching Nottingham Forest. "I used to play football to a decent standard until age got the better of me", he explained. Ricky also enjoys match and charity fishing, and spending days out with his two children.
 
Arron Darch - Electrician: Hailing from Mansfield and Arron is now an Ilkeston local where he resides with his wife, Heidi, and their dog: A beagle, foxhound cross, named Leo. Although a skilled football player, these days Arron prefers watching Mansfield Town. Aaron is a highly qualified Electrician with a logical approach. He's a level 3 2365-qualified Electrician, with 2391 testing inspection qualifications, and he's up-to-date with all current regulations! Paying close attention to detail, Arron puts his critical eye to detail down to having OCD. "My favourite number is 19, being the number I played football in as a youngster, and I still do to this day", he reveals.
 
Brad Francis - Apprentice: One of Definitive's budding Apprentices, Brad particularly relishes managing armoured cabling, and has a dedication to learning all of the latest electrical techniques and processes. A former competitive swimmer, Brad's hobbies include travelling and socialising.
 
Joe Garton - Electrician: A Nottingham local, Joe has a background in international luxury brands, therefore, he understands the importance of quality, best-in-industry service, and a customer-first attitude. He retrained as an Electrician in 2020, completing all relevant qualifications with flying colours, and he's particularly interested in electric vehicle charging and Smart Homes. When Joe's not on Definitive Electrical time, he can be found playing tennis and spending time with his wife and sons, aged 2 and 4.
 
Franchesca Pearce - Apprentice: Franchesca is Definitive Electricals second Apprentice and first female Electrical Engineer. Making her move into the domestic electrical world throughout COVID, as well as starting college to learn her trade, she finds her time "on the tools" with Definitive an invaluable part of her path towards consumer electrical excellence. In her spare time, Franchesca plays rugby and enjoys travel, history, photography, and 'good' beer.
 
Marc Row - Electrician: And finally, we welcome Mark. He's another customer-focused team player, striving to learn domestic electrical best practices, cutting-edge techniques, and the latest home electrical systems. His particular areas of interest are Smart Homes, CCTV, and security systems.
With new domestic electrical appliances and solutions emerging, and with the constantly evolving legislative and technological demands of domestic electricals, choose a team you can rely on. Definitive Electrical offers qualified, safe, transparent, and value-for-money electrical work to households across the East Midlands.

To discuss your requirements, speak to a member of our growing team now!