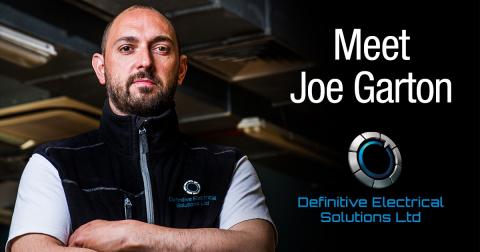 As households and businesses alike celebrate coming out of lockdown, our new member of staff couldn't have started at a better time.  As an electrical company trusted by countless households throughout the Nottingham and Derby regions, Definitive Electrical Solutions Ltd provides a complete range of electrical services, from a straightforward additional plug socket installation, through to domestic house rewires, electrical safety testing, home fire alarm and carbon monoxide systems, and new fuse boards.

Welcome aboard our new engineer, Joe.  Bringing heaps of experience, and coming from a luxury retail background, Joe's responsibilities are to install, test and maintain an array of electrical systems to the high standards expected from Definitive Electrical customers.  Joe is highly skilled to undertake most types of consumer and commercial work and his areas of particular interest include the ever-expanding and developing arenas of electrical vehicle (EV) charging, smart homes and security systems: electrical products and services that Definitive strives to remain one step ahead of.  We pride ourselves in providing the very latest, safest types of EV charger units, from simple home units to 22kW devices that require three-phase charge points.  "Our key skills lie in understanding the safest configuration of EV charger for each specific location", Joe commented.  "The correct earthing needs to be in place, whether that means installing earth rods, a separate PEN fault device, or perhaps one of the increasing number of EV chargers that come complete with their own O-PEN device". He added: "Our priority is, after all, the optimum safety of our customers and all who enter their property".

As more and more homes opt for smart homes that add greater control and efficiency, and as security systems enjoy technological developments and greater demand, Joe's skills and aspirations will undoubtedly be a credit to Definitive Electrical and of huge benefit to our growing number of customers.  Joe will of course be following the Definitive Electrical ethos of working efficiently and to the highest standard, whilst taking every opportunity to ensure the client remains informed and happy throughout every job.  We're proud to have Joe on board and wish him a happy and successful career with Definitive Electrical.

If you'd like to discuss an electrical requirement, why not speak to Joe?   Click here to get in touch.