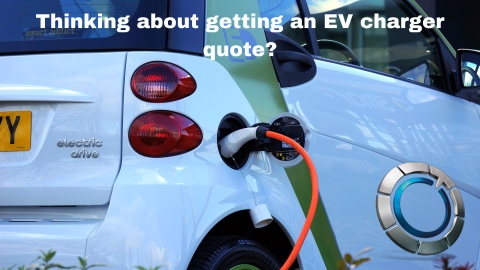 We have had an increasing number of enquiries regarding installing chargers for electrical vehicles in recent weeks, reflecting the growing popularity of electric vehicles as well as, perhaps, the ongoing uncertainty surrounding petrol prices and availability. Our engineers at Definitive Electrical have installed many EV chargers across Nottinghamshire and Derbyshire and we would love to help you to get your EV charger up and running. So here are the best ways you can help us to help you…
Ways to help us to help you
Before we can quote for and install an EV charger, we need to know a bit more about your requirements and what your existing electrical installation is like.
We will ask you for information about your current consumer unit (fuse box) to ensure it will have the capacity to sustain an EV charger.
We will want to know if you have any ideas about where you would like to charger to be located and how you would prefer the wiring to be placed between your consumer unit to the charger?
We will ask you if you have any preference for a type of charger or whether you would like us to recommend the charger that we think will be most suitable for your needs.
We will want to know what your preferred timescale for installation is – how soon you need your charger to be installed could impact on which charger can be installed due to current availability of certain EV chargers.
In order to help us speed up the quoting process, it is really helpful if you can supply us with photos of your consumer unit and the proposed location of your charger. This can really help our engineers get a better understanding of your planned EV charger installation and work with you to find the best solution for your property and for your requirements. We know that some of our potential customers find it a bit of a pain when we ask for this information, but we really want to be able to provide you with the best and most accurate information that we can.
Will my existing electricity installation need to be upgraded?
Your charger is connected to your existing supply via your consumer unit (or fuse box). If there is space in your consumer unit and it is suitable for the new EV charge point circuit, it will be connected along with a cut-off switch. However, if there isn't space in your existing consumer unit, or you don't already have the appropriate RCD protection, it may need to be upgraded or a secondary consumer unit for the EV charger – so, you may need to think about where you would like that to be situated.
Just a point to note about this. We have seen (and been informed by our customers) that some installers suggest using your meter box as a suitable location for a secondary consumer unit and cut off switch. Here at Definitive Electrical, we disagree with that advice – the equipment in your meter box is owned by your DNO (distribution network operator), metering company and is reserved for their use in future. Should they decide to change some of that equipment later down the line, meaning that there is no longer space for your charger equipment, you will be expected to have that installation moved at your own cost. Therefore, it is the company policy of Definitive Electrical that we won't install equipment in your meter box. This YouTube video gives more information about this issue: https://youtu.be/864pJSfAuOY
So, now we have given you a bit more information about how you can help us to help you when it comes to providing you with a quote for a new EV charger, if this is work that you would like to have done, get in touch with us here and we can get started on that process for you.