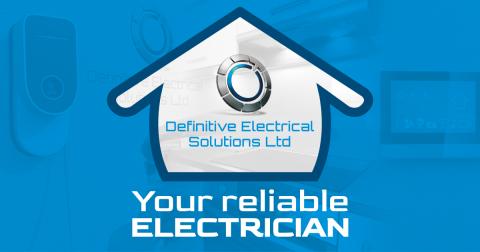 Whether you're a homeowner or tenant, it's highly likely that you've recently considered enhancing your home in one way or another. The past year has motivated us to tackle some of those outstanding, and in some cases, trifling home improvement jobs.  From decorating, to improving audio-visual features, to home improvements spanning bedrooms, bathrooms and kitchens.

A recent report by Building Products Magazine confirms exactly what many of us have come to realise of late, and that is, as we've been forced to spend more time indoors these last few months, we've been motivated to 'take stock' of every room in our house.  The report confirms that over half of us have the intention of making some sort of enhancement to our homes this coming year.

Definitive Electrical Solutions is a name you can trust, thanks to the fact that we're fully insured, Part P complaint electrical contractors with countless satisfied customers spanning Derby, Nottingham, Chesterfield and the surrounding area.  To ensure that your home improvements serve you well into the future, Definitive Electrical Solutions is here to guarantee that any electrical job, no matter how large or small, is installed correctly and safely right from the start.  Whether you plan to tackle that faulty light fitting, install new kitchen equipment, or fit out an out-building or loft space, Definitive Electrical solutions' fair and transparent pricing means that you get paramount service at competitive prices.

No matter the electrical work you require, we will always price clearly, responsibly and competitively. We have a minimum project fee of £80 plus VAT, and that's because even the smallest job requires planning, travel and evaluation.  And from there onwards, we'll continue to work for the best price possible, whether that's pre-agreed as a minimum rate or doing a job on a fixed price rate. As mentioned, the cliche 'no job is too big or small' stands true with Definitive.  We're proud to always treat each and every customer with the utmost respect and understanding, explaining every step of our work along the way.

If you'd like to know more about our experience and services or would like to discuss your electrical requirements in detail, click here to speak to a member of the Definitive Electrical team now!