Will the electricity in your holiday accommodation be safe?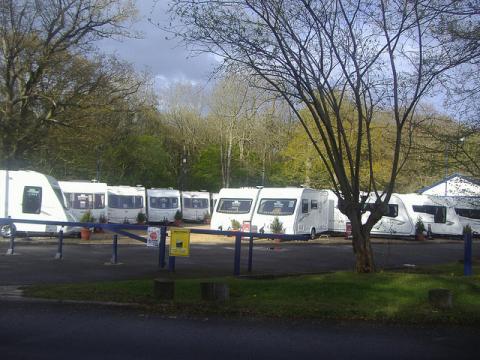 With the August bank holiday approaching, many people are thinking about getting away from it all for a few days. In typical British style, the weather isn't looking too great, however don't let bad weather deter you from checking out the electrical safety of your holiday accommodation. Whatever type of accommodation you stay in, from caravans to self catering cottages and hotels to tents, you can pretty much guarantee that electricity will feature somewhere in your holiday.
Poor electrical installations and risks taken with electricity seem to be common place in holiday accommodation. As an electrician in Nottingham, I have seen numerous alarming photographs by holiday guests posting pictures of terrible standards of electrical safety within holiday accommodation. Of course bad electrics in holiday accommodation are found all over the country not just around Nottingham!
When carrying out electrical safety inspections, one of the main problems I find in holiday accommodation is the over reliance on extension leads with extension leads badly overloaded and in some cases extension leads plugged into other extension leads. I have also come across convector heaters plugged into caravan electricity systems which can instantly overload them and trip the power of several other caravans too, or cause reduced power.
What to look for in your holiday home
When away on holiday, it is easy to overlook such a basic essential as electricity, however I highly recommend that you check for signs of dangerous electrics and view a current Electrical Installation Condition Report (EICR) for your holiday accommodation. It is still a requirement, in the UK, that holiday accommodation owners ensure the safety of their electrics in the same way as other property landlords.
Electrical Safety Requirements in holiday homes
Anyone who lets holiday accommodation is required by law to ensure the equipment they supply as part of the tenancy is safe.  The Electrical Equipment (Safety) Regulations 1994 and Consumer Protection Act 1987 requires that all mains electrical equipment (cookers, washing machines, kettles, etc), new or second-hand, supplied with the accommodation must be safe. The best way of achieving this is to have an EICR (Electrical Installation Condition Report) carried out. If the property electrical installation is satisfactory then a certificate will be issued. In addition it is highly recommended that all appliances in the property are PAT tested to ensure their safety.
There should also be an information folder supplied with detailed instructions showing how to use the electrical appliances supplied. There is nothing worse than arriving on holiday, tired after travelling to find that you have to work out how to get the oven to work!
Electrical Safety on Camp Sites
It is common for holidaymakers to forget that the electrical supply on camp sites is far lower than that in a domestic home. Some camp sites supply electricity at only 5A, however normally the supply is 10A or 16A but this is still significantly lower than what you get at home. As an example, many people forget that a standard domestic kettle uses 8.7Amps of power with microwaves being another problem, particularly the most commonly used 800W microwaves which use 4.4A of power. I always recommend to camping enthusiasts to consider investing in special low wattage appliances particularly for basic appliances like kettles to avoid tripping, fire and worse still electrocution when camping.
The use of RCD protection within your caravan or mobile home is high recommended as this gives you added protection should something go wrong. In terms of camp site electrical safety, it is a recommendation that caravan owners have an EICR certificate which should be renewed every 3 years to maintain a high standard of electrical safety.
In tents, electricity should be used with great care particularly with the wet weekend being forecast, and should always be disconnected when you leave your tent. Keep all electrical equipment off the ground and connect only to an approved electrical supply designed especially for tents and awnings. These will be fitted with additional safety features designed for tent users where electrical appliances are subjected to condensation more quickly. Remember that electrical appliances are designed for a domestic environment and are more likely to suffer from condensation issues. Be prepared to turn off the electricity supply completely in poor weather conditions.
What if I have any concerns?
Just as you would do at home, if you have any concerns over any aspect of your electrical safety on holiday then do not use and consult the owner or manager. Remember, it is their responsibility to ensure their electrical installation and electrical appliances they supply are safe to use.