Replacing a fuse box safely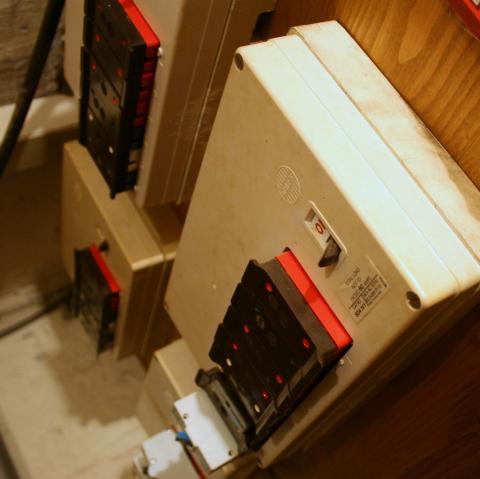 Having made the decision to replace your old fuse board, it is important to ensure that this important job is completed by a competent domestic electrician who is both qualified and registered with a Part P scheme provider such as the NICEIC, NAPIT or ELECSA. Think of your fuse board as the main hub of your home – it is the 'thinking centre' to all electrical aspects in your home. If the job is carried out incorrectly, your home will be in a dangerous condition and your family is then at risk from electrical harm.
When a fuse box may need upgrading
Firstly, I will outline the main reasons why you may need or want to upgrade your old fuse board to a new 17th Edition Consumer Unit:
You are having some other electrical work carried out and need to comply with the regulations.
Your old fuse board is overloaded and starting to cause problems for the remainder of the installation.
Your wiring installation is in poor condition but you cannot afford a rewire, changing to a 17th Edition Consumer Unit will offer some protection.
Whatever the reason upgrading an old consumer unit to one incorporating dual RCD protection, is a job that many people will have to consider at some point. Incidentally, all consumer units must now have RCD protection, which is my opinion is certainly making a difference to electrical safety in homes and I would like to see every home fitted with RCD protection.
The above points may have been raised by another trades person in your home such as a builder if you are having a large building project undertaken. In fact many reputable businesses who carry out home renovations such as kitchen fitters will not fit a new kitchen without adequate RCD protection being in place.
Finding an electrician to do the work
Just because you have been told the work needs to be done doesn't mean you have to use that person to carry out the work. Never assume that the work really is necessary, always obtain a second opinion and certainly obtain 3 quotes before proceeding with work.
As an electrician in Nottingham, I have been to home owners who have been told their consumer unit is dangerous when in fact it is still fit for purpose. Any electrician will tell you that a fuse box upgrade is a good idea, however it does not mean your fuse board is necessarily dangerous. Or even that the work is necessary.
Be careful who you hire to do the work
Please DO NOT be tempted into hiring anyone who IS NOT a qualified electrician to carry out electrical work in your home, even if they offer to carry out the work for a fraction of the price because 'they know all about electrics' Its not just the price that counts, a competent electrician will be fully qualified, part P compliant and fully insured to do the job AND have a lengthy guarantee on the job for years to come.
If the person fitting the consumer unit is not qualified, Part P compliant, and is not insured, it really is better to walk away. These people are not interested in your safety or future well being, they are only interested in your cash! Yet over the years I have come across the same objections about price when quoting for a replacement consumer unit /fuse board. They normally go as follows... "I can buy one myself for £80 in a well known DIY Shop, My mate that works for %%%%%% and can do it for £xxx, I've had a quote from my builder and he reckons he can do it for £xxx, Mick down the pub said if I get the board he'll fit it for £50"
Don't overlook the importance of a Part P Certificate
Please don't believe anyone who say you don't need a certificate or dis-regards the importance of certification. Not only if an electrical certificate your peace of mind that your home is safe, it is also an important document that is needed should you wish to sell or let your home in the future. It is not simply a peace of paper signed by the electrician, it is a legal document and the electrician needs to carry out several tests on the installation before they can issue a certificate. The Electrician who carries out the installation should also issue the certificate. BEWARE some 'electricians' employ someone else to issue the certificate. This practice is NOT APPROVED and means your electrician is not Part P compliant.
When I carry out work for home owners and landlords in and around Nottingham, I work fairly. This means I carry out the appropriate tests, and only ever recommend the work is carried out if there is genuinely a need.