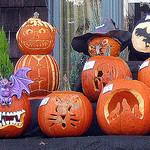 The traditional October half term break is now under way for most parents up and down the country. This time of year is dull and rain is almost definitely likely to feature in the week off. So if your child is done with the Autumn scavenger hunts and the rain is pelting down outside, then they are likely to be indoors making use of electrical items.
Busy parents are less likely to check up on their kids whilst they seem to be occupied, however electrical dangers are more likely to occur when glued when off your guard. From drinks accidentally spilt over games consoles to overheating sockets, it is worth taking notice of electrical safety especially when your kids descend on your home full time for the half term break!
Halloween is on it's way!
Halloween is famed for the notorious trick and treaters, pumpkin carving and eerie goings on, however it's also the one night of the year when you don't want to be plunged into sudden darkness without any warning. As an electrician in Nottingham, I come across electrical horrors from time to time in peoples homes, however Halloween is one of the more dangerous times of year when it comes to electrical safety. In fact, very little thought is generally given to electrical safety at all on Halloween.
Practically, every year I am called out on Halloween or the following morning after Halloween traditions have gone wrong. If you are planning a Halloween party or just some simple Halloween activities with your children, then you need to read my Halloween Electrical safety tips.
Stator Electrical Halloween Top Tips
If you want to limit Monster Mash to just the music this Halloween then follow these electrical safety tips. These are the reasons I have been called out in the past over Halloween and many of these problems can be easily avoided.
Avoid a hot costume drama
Flowing costumes or Halloween accessories can quickly overheat and catch fire. Keep an eye on accessories being left over the vents of electric heaters and ensure that fabric from costumes are also not covering vents. Check that the material on costumes is heat resistant. Many people think of open fires when they think of heat. However electrical items if underneath materials which are not flame resistant can over heat and catch fire.
Ensure electrical vents are not covered and costumes are not covering electrical items.
Never use electrical items outside that are designed only for indoor use
Many Halloween activities take place outside. Never use electrical items outside that are for indoor use only. Even if the weather seems fine and dry, electrical items can become effected by damp and can cause electrical injury or shock. Ensure that electrical items such as lights, radios, and extension leads can be used outside. The packaging will clearly state if it is suitable for outdoor use.
Check product labelling to ensure it is suitable for outdoor use.
Take care with Halloween decorations
Halloween decorations normally feature crepe paper, hay and corn stalks. These type of materials are easily burnt. Ensure that heating and lighting is kept away from dry materials that could easily overheat and catch fire. Modern Halloween lighting is low heat and is less likely to overheat. However old style lighting will overheat easily.
You might only use Halloween lighting once a year, however invest in LED lighting and prevent overheating of items such as paper decorations, gazebos and other dry products like hay.
Keep fire escape routes and exits clear
Make sure that you and your guests know how to leave your property safely if a fire did break out. Make sure that these routes are kept free of clutter. Never be tempted to place furniture and unwanted party pieces in these areas. Make sure that fire alarms have been tested before hand.
Ensure you have working smoke alarms in your property and test them before the party begins.
Check to ensure wires are not damaged and you cannot see bare wire. Ensure lights are firmly in place and are not hanging off on their wires. If you can see damage or bare wires, discard the item. Never be tempted to use insulation tape or carry out other makeshift repairs as this can cause electrical shock or injury.
Keep lights and accessories in their original packaging when not in use to prevent damage occurring
Only purchase products from reputable sources
Never purchase electrical products from dubious outlets. Ensure that all electrical products are approved for safety and marked with a CE mark. Also ensure that electrical products are sufficiently packaged and contain clear instructions. Electrical safety matters and you need to ensure the products you purchase are safe. Never take a chance on electrical safety.
Take care on where electrical items are purchased. Never be tempted to purchase items which seem to cheap.
Never leave electrical appliances switched on when unattended. Once the party has ended, remember to switch them off!
Do you still have electrical concerns?
Even the safest Halloween accessories can still cause electrical shock and injury if your home electrics are not safe. If you have any concerns over the safety of your home electrics please call a qualified and registered electrician.