How to prevent an electrical gardening accident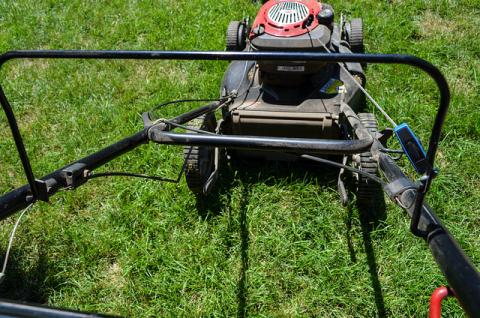 Summer and gardening go hand in hand this time of year, however you would be surprised by how easy it can be to receive an electrical shock or injury as a result of carrying out a seemingly ordinary gardening task.
The Electrical Safety charity Electrical Safety First has issued some stark statistics which are certainly sobering thoughts for anyone sipping a cocktail in their backyard just now. Every year 300,000 gardeners end up in hospital each year with men are twice as more likely to have a gardening accident than women are. A third of overall gardening accidents are caused by electrical appliances. So if you are guilty of sharpening your mower blades whilst the mower is still plugged in or was in a fight with a bean row during those hurricane winds we had around Nottingham yesterday, then you need to think carefully about your gardening tasks.
From back injuries caused by awkward movement, to electrical shock caused by careless use, gardening can certainly less than a therapeutic activity!
The main garden culprits
Needless to say, the main culprits in the gardening world is the very equipment that keeps our gardens looking their best – mowers and hedge trimmers. Between them, they are responsible for 1000's of electrical injuries every year in the UK.
Electrical Safety First is calling for improved warnings on product packaging and instructions which makes it very clear on how the equipment should be operated in order to prevent electrical injury and shock. Basic warnings such as switching off the equipment when emptying the grass or when not in use would prevent serious injury occurring every year.
Do you read the instructions?
Many people admit to not reading the instructions with 18% of men saying they never read safety instructions compared to 13% of women (yes ladies you're onto a winner here!) Without fully understanding how the equipment operates, particularly if a problem has developed leaves you at a greater risk of injury.
41% of men who regularly carry out gardening admit to having had a gardening accident on at least one occasion, this is twice as many as the number of women.
Avoiding these common accidents
Cutting through the electrical cable on a lawn mower or hedge trimmer is the most common electrical accident reported in the garden with over 25% of overall cases reported involving this type of accident. Unfortunately live cable can cause electrocution which in some cases can be fatal as well as risking a serious injury caused by electricity. Not a good end to an afternoons gardening.
Of course, mistakes can and do happen, however there is something that you can do to prevent electrical injury and death and that is to ensure you are protected by an RCD.
Obtaining RCD protection
As an electrician in Nottingham, I always highly recommend to home owners and landlords to ensure that their property is protected by an RCD. Normally this is in the form of a consumer unit upgrade which is a fairly straight forward job that must be undertaken by a qualified and registered electrician. However where budget restricts such a job, the next best option would be to either have RCD sockets installed or to use an RCD plug which can be purchased at a reasonable price from High Street hardware stores. This is to ensure that you are protected from the dangers of electricity whilst using specific gardening equipment.
Gardening Safely
Electrical equipment such as mowers and hedge trimmers should not be used in wet or damp conditions. Always check before use that the equipment has not been damaged by water before using it.
Always switch off electrical equipment when not in use or when carrying out maintenance. Lastly always think about where your electrical cable is when using the equipment.
If you need any advice about the dangers of electricity, feel free to drop me a line here at Stator Electrical Solutions, it is better to be safe than sorry.