Fire alarm systems in Nottingham – does your property need one?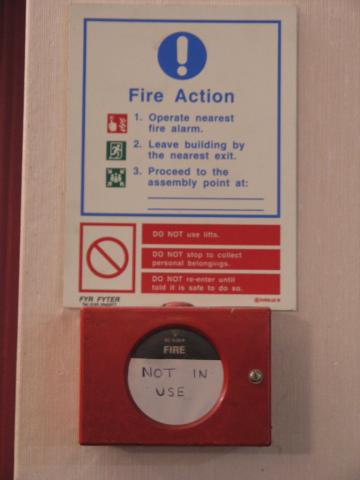 A Government notion may soon see the provision of a smoke alarm a compulsory requirement in privately rented properties. A YouGov survey carried out nationwide revealed that 1 in 5 privately rented properties did not have any form of fire alarm. Did you know you are four times more likely to die in a house fire? This is because fires often go undetected, and fire alarms are the alert to warn of a potentially serious house fire. Interestingly, it is not the fire that causes death, it is the inhalation of toxic fumes and smoke that is the cause of death in most house fires. A simple fire alarm could save you life.
What kind of fire alarm system should I have?
When I say 'system' this could be anything from a battery powered smoke alarm to a mains powered fire alarm. A system is the design and installation of fire alarms that are effective and situated to detect fire and alert the householder in good time.
I work with a growing number of landlords in and around Nottingham to ensure they remain compliant with fire safety regulations. Fire alarm systems of course vary between properties and the needs of a house with multiple occupancy (HMO) will be different to that of a single property. However in all cases, I strongly support the proposed motion by the Government to make the provision of a fire alarm a compulsory requirement in privately rented properties.
I always highly recommend that fire alarms systems are mains powered and installed by a qualified and registered electrician. I am highly experienced with working with landlords and other commercial businesses in Nottingham in designing, installing and maintaining fire alarm systems.
Domestic properties can equally benefit from having the safest in fire alarm systems installed.
What you should do if you have a smoke alarm
Having a smoke alarm in is one thing, whether it works is another! How do you know if your works? Do you test it on a weekly basis? If you do, brilliant as that is what is necessary to ensure your smoke alarm is working at its best.
It is very important to get into the habit of testing a smoke detector on a regular basis. Remember it is the device that detects the smoke, the alarm sounds upon this detection. It is important that both can work effectively for full protection. I am a big supporter of the campaign known as test it Tuesday which works to raise the awareness of the importance of testing smoke alarm and fire alarm systems.
By getting into the habit of testing your smoke alarms weekly, you will have the peace of mind that they are working as they should be. Regardless of whether your fire alarm is mains powered or battery powered, it is important to test that they are working on a regular basis.
What to do if a fire alarm is not working
If a fire alarm does not respond when tested, it is important that you make contact with your landlord as soon as possible to allow them to rectify the issue. Only at the end of April, the Daily Mail reported that a blaze in a block of London flats claimed the life of a 23 year old as she tried to rescue her fiancé from the building. Investigations revealed that the buildings fire alarm system had been turned off 2 years previously because of faults.
The outcome of reading this deeply upsetting article was totally unacceptable. The costs of maintaining a fire alarm system is very low in comparison to rental income.
Effective fire alarm systems installed in Nottingham
Fortunately, thanks to some successful high profile campaigns carried out over the last 10 years, the uptake in fire alarms in homes has increased and now 9 in 10 homes have a fire alarm. However there is still some way to go to ensure that no one is missing out of effective fire protection.
If you are a landlord in Nottingham and are unsure about your fire alarm system then please give me a call. I am always happy to advice and go through your options.