The Electrician in Nottingham Guide to Electrical Safety when Travelling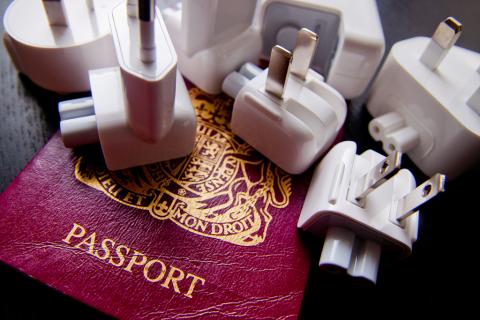 If you are going away this Easter, it is worth bearing in mind that electrical safety is not just a home matter. Maintaining good electrical safety awareness is still important even when away from home. Don't take for granted that the owners of your holiday accommodation will have seen to your electrical safety needs – I have seen bed and breakfast accommodation where extension leads have been plugged into extension leads.
Types of electrical dangers found
In fact I carried out some electrical work in a bed and breakfast in Nottinghamshire recently where an electric heater was sharing an extension lead with a kettle, a mini fridge, a fan, a television and an alarm clock. This was not to mention the hair dryer, hair straighteners, the laptop and various phone chargers that were also in use within the room. Oh and did I mention that the shower was dangerously close to a light fitting that was not suitable for bathroom use?
This was not a one off incident, as an electrician in Nottingham, Derby and Mansfield I carry out a lot of electrical work in holiday accommodation from camp-sites to hotels. At this time of year as the holiday season kicks off in the Midlands, I find electrical related calls increasing. Sometimes they are electrical problems caused by misuse as in the bed and breakfast scenario above, however many times they are to carry out electrical safety checks before re-opening for the season.
How to stay safe in your holiday accommodation
Of course electrical safety shouldn't be a major concern when you are away enjoying yourself, however it is worth your while ensuring that you use electrical appliances with safety in mind just as you do at home. The owner of the holiday accommodation should have an electrical safety certificate available to inspect if you so wish.
Electrical appliance use when camping
Whether you are staying in a top class hotel or in a tent you should take care over your use of electricity. Did you know that an electrical system in a caravan is completely different to your own at home? In caravans you have to take care over the amount of electrical items you plug in. I have seen several incidents where campers have taken portable electric heaters into caravans in order to stay warm. Unfortunately this can cause problems with the electricity supply and if everyone did this on the camp site, it would cause tripping problems. The best advice for staying warm when camping is to think layers! :)
If you are staying in a tent, your electrical needs do need to kept open minded. Electricity should be used with the greatest of care and definitely not used in damp or wet conditions. Really electricity in a tent is not recommended but if you do need to use it, always ensure it is used with an RCD at all times and keep to a minimum – such as for phone charging purposes.
Self catering and bed and breakfast style accommodation
In standard UK buildings, electricity will be the same as in your home. However, never be tempted to use electricity in a way you are not comfortable with – for example by over using extension leads. Electrical appliances supplied in the accommodation should be PAT tested. If you are finding it difficult to use the electrical appliances without relying on extension leads, speak to the accommodation provider as the installation of additional sockets by a qualified and registered electrician may well be necessary.
Electricity Abroad
If you are travelling outside the UK this Easter, remember that electricity supplies around the world do vary to what we have here in the UK. You will need to purchase an electrical adapter suitable for use in the country you are visiting if you are taking your own electrical appliances.
Before you go, think about the type of electrical sockets and the voltage of the country you are visiting. If you are taking your own appliances, then you will need a travel adapter or voltage converter. I highly recommend you purchase these in the UK prior to travelling to ensure the adapters meet the stringent UK safety standards.
Remember on cruise ships, you may need to purchase travel adapters even if you depart from the UK as the ship may have different sockets and voltages.
I do not recommend buying electrical appliances when abroad to use back here in the UK. The use of electrical adapters should be a short term solution.
If you have concerns
Never take risks with electricity. If you have any doubts over the safety of your electrical supply or any electrical appliance, then disconnect it immediately and consult your holiday representative or owner of the holiday accommodation. They should make contact with a qualified and registered electrician as soon as possible who will advise you on the next steps to take.
As an electrician in Mansfield and the surrounding areas, I work with many holiday providers in the area carrying out electrical safety checks (EICR's and PAT testing) in a range of holiday accommodation types to ensure that holidaymakers are safe from the dangers of electricity. Please do not hesitate to get in touch if I can be of assistance.