Electrical Advice for the Home from your local electrician in Nottingham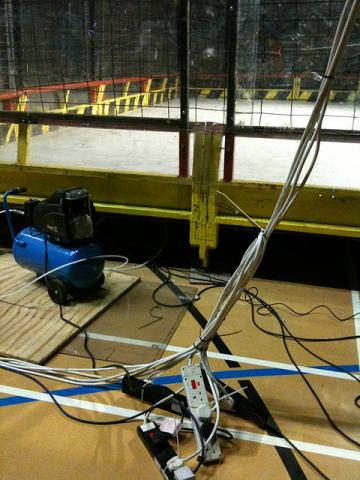 As a house holder in Nottingham, you will no doubt be aware of some of the dangers that electricity can present in the home, but what do you classify as a problem?
Many homes in Nottingham already have electrical dangers present that the householders are not aware of. This doesn't mean necessarily mean there are dangerous electrics in the home, it is often as simple as how you use electricity that can make it dangerous.
One of the most common electrical dangers that I see as an electrician in Nottingham is the misuse of extension leads. Unfortunately many householders believe they can plug anything they like into an extension lead, seeing it as the provision of four or more extra sockets.
Take care with extension leads
Using extension leads incorrectly can cause a serious house fire or electrical injury. Kitchen appliances such as kettles, toasters and larger appliances such as washing machines and tumble dryers require more power than other household items such as electronics like games consoles, televisions and computers.
Plugging just a kettle and toaster into an extension lead can overload it. Many people do not know this. It is not the size of electrical appliance that matters, it is how much power it requires when in use. Before you use an extension lead, check you will not be overloading by using the overload calculator on my website. It is surprising how much (or even how little) power appliances need to work.
Other common electrical problems in the home
If your fusebox is tripping on a regular basis, it means that something is not right. Ignoring nuisance tripping can make a minor electrical problem turn into an expensive electrical repair job. Tripping can occur for many reasons, but it can often be the result of DIY electrical work being recently carried out or a dangerous appliance that is in use.
It does help to familiarise yourself with the main functions of your fuse box, particularly in relation to testing your RCD which is vital to your electrical safety. My helpsheet explains how your fusebox keeps you safe and how to recognise a problem.
Nottingham was badly affected in the flooding that took place earlier this year. Hopefully we won't see any repeats on that scale, however it is worth being aware on what to do if floods threaten your property once again. In particular my helpsheet tells you what you should do if your home does get flooded to avoid electrical shock or injury.
I visit many homes who still use the old style light bulb in their homes. Simply changing to low energy light bulbs can result in a nice reduction on your electricity bill. Switching the tumble dryer in exchange for a washing line in dry weather can also save money. There is no need to make expensive electrical upgrades in your home if they are not needed.
Keeping your home electrically safe
The best way of ensuring your home stays electrically safe is to have an electrical safety inspection carried out. The correct name for this is an Electrical Installation Condition Report (EICR.) This is an in depth report carried out by a qualified and registered electrician which confirms the condition of the wiring in your home.
It is recommended that an EICR is carried out at least once every 10 years for home owners. An an electrician in Nottingham, I carry out EICR's for home owners, landlords and lettings agents in and around Nottingham and Mansfield. I always provide electrical safety advice as part of my service.
If you have any concerns about any aspect of electrical safety in the home, please do not hesitate to give me a call, as a local electrician in Nottingham, I'm always happy to help.