Electric Blanket Safety Advice in Nottingham and Derby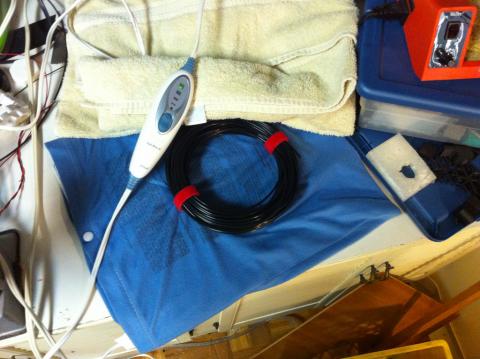 It is never too late to remind local people in Nottingham, Derby and Mansfield to take care when using electric blankets. Just this week in the National News an 88 year old lady from Wales died as a result of a faulty electric blanket. This tragic story prompted me to write this blog today as electrical fires resulting from using a dangerous electric blanket still occur even after the worst of the Winter has passed. As time goes on it is easy to become complacent and think that you won't be affected by a faulty electric blanket.
Winter bites back
With the Winter not yet over and some icy weather predicted, households may be getting their electric blankets back out – now is the time to give your electric blanket a good check over. Please look out for elderly neighbours who may not be aware of the latest safety regulations and checks that are recommended on electric blankets.
Ensuring your electric blanket is still safe to use
There are 2 main things to consider that will go a long way to ensure your electric blanket is going to be electrically safe.
If your electric blanket is more than 10 years old, it does need to be replaced. Ensure your blanket carries a certification mark either BEAB approved in a rectangle box or Kema Keur to ensure it reaches the required UK safety standards.

 

Every 3 years it is worth having your electric blanket inspected by an electrician to confirm it is still safe to use. Older blankets are likely to have more faults. Ensure you use only a qualified and registered electrician in the Nottingham area to carry out this job in your home.
The dangers that electric blankets can present
The dangers of electric blankets can be particularly alarming – and if a fault develops, it is the person using the electric blanket who is likely to suffer electrical injury or worse still death.
Faulty electric blankets can cause electrical fires which do kill. Unfortunately 20 people in the UK are killed every year as a result of a faulty electric blanket. 250 UK people are injured by faulty electric blankets every year.
Dangerous electrical wires and misuse of the blanket are often to blame. The fragile wires that make up an electric blanket are easily broken or damaged by incorrect storage, incorrect use – for example keeping the electric blanket switched on overnight when it is not designed for that, or allowing the blanket to become wet.
Advice on safe electric blanket usage from Stator Electricians
The best advice that I could give to anyone using an electric blanket is to always use it in accordance to the manufacturers instructions. Electric blankets do differ in their use – some can be washed, others can be folded for storage, some can be used overnight. Never assume or take a chance with an electric blanket. If you have lost the instructions, it is better to replace the blanket.
If you have doubts over the safety of your electric blanket then unplug immediately and do not use. Consult an electrician in Nottingham for advice. I test many electric blankets for households in Nottingham, Derby and Mansfield on a regular basis particularly in the Winter months. Not only do I check and test the blanket itself but I also ensure that the plug, cables and fuses are safe as well as checking for safety certification.
Electric blankets – make sure they only warm the bed
A safe electric blanket is an excellent choice for keeping warm during chilly months. Never use a blanket that is showing signs of wear such as scorch marks, discolouration, exposed wires or worn away fabric. Although you might think it is ok, it probably isn't and it is better to replace.
The costs of new electric blankets are very reasonable and can be picked up in sales at great prices in the Spring time! Always purchase your electric blanket brand new – never buy second hand, remember you do not know if it has been used or stored correctly!
Stator Electrical Solutions can help with all aspects of your electrical needs, not just electric blankets. Why not contact us to discuss your electrical concerns? we help house holders and business owners in Derby, Nottingham and Mansfield with the safest in electrical solutions.